Host Your Next Event
at the
College Park Office Operations Building
The World's Oldest- Since 1909…
The College Park Airport (KCGS) was established in 1909 after Wilbur Wright came to the field to train two military officers to fly in the government's first aeroplane. The facility is now the world's oldest continually operated airport, and is the site of many significant aviation firsts. College Park Airport, known as the "Field of Firsts," remains an active airport serving the needs of aircraft pilots, and is also a site for history buffs and aviation enthusiasts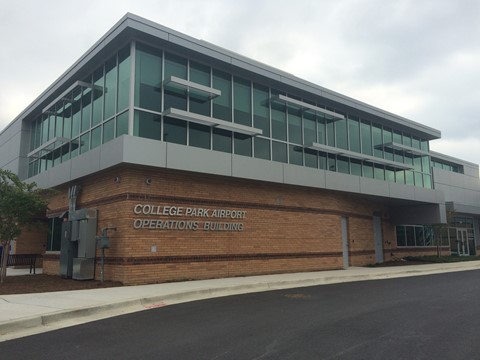 1909 Corporal Frank Scott Drive
College Park, MD 20740
301-864-4404

College Park Airport Office Building
Meeting Facilities
Meeting Space Overview
Our unique venue offers meeting spaces available for business meetings, training sessions, and specials.
· Over 2,000 square feet of flexible meeting spaces
· State-of-the-art audio-visual technology
· Outdoor Terrace and pantry
· Complimentary onsite parking
· Professional event staff
· Located approximately ½ mile from the College Park-UMD Metro Station (Green Line)
Contact: Lynn L. Ervin, Sr. Event Planner
Email: lynn.ervin@pgparks.com
Office #: 301-864-4404
Hourly Meeting Rental Rules and Regulations
All rental contract holders must:
· Be at least 18 years of age and;
· Have a valid form of ID and proof of residency. Valid forms of ID include: a driver's license, utility bill, deed to house, lease agreement, homeowner insurance policy, or renter's insurance policy.
· The contract holder is the point of contact during the duration of the rental period.
A 10-day calendar hold can be placed on a specific date with a completed rental application.
Accepted forms of payment for deposit: Visa, MasterCard, checks made payable to Maryland-National Capital Park and Planning Commission (M-NCPPC), cash or money orders. All returned checks will have a $35.00 assessed returned check fee.
Upon payment of the security deposit, the client will receive the rental contract which must be signed and submitted by the due date specified in the contract.
Hourly Rental Fees (per hour)
| | | |
| --- | --- | --- |
| Rental Options | Bi-County | Non-Bi-County |
| Conference Room A or B2 | $150 | $195 |
| Conference Room A and B2 | $300 | $390 |
| Airport Operations Building1 | $2,100 | $2,750 |
| Airport Hangar | $150 | $200 |
1Include Conference Rooms A & B, two-story lobby, and terrace.
2Minimum three hours
Non-profits must show proof of 501c3 status and have good standing.
Meeting Room Dimensions, Capacity, and Set-up
Conference Room A – 986 square feet (29x34)
· Classroom Style – 49 ppl
· Theater Style – 49 ppl
· Banquet Style – 49 ppl
· Cocktail Reception – 49 ppl
Conference Room B – 1,054 square feet (31x34)
· Classroom Style – 50 ppl
· Theater Style – 60 ppl (6 rows with 10 chairs)
· Banquet Style – 88 – 120 ppl
(Note: this range depends upon whether or not the podium is utilized whether the customer rent 60" (5 foot) or 72" (6 foot) rounds.)
· Cocktail Style – 156 ppl
Conference Rooms A & B – 2,142 square feet (63x34)
· Classroom Style – 80 ppl
· Theater Style – 140 ppl (7 rows of 20 chairs = 140 ppl)
· Banquet Style – 120 ppl max.
· Cocktail Reception – 225 ppl max.
Operations Terrace – 40 people (standing)
Operations Hanger – 150 people (standing)
Planning reference for Rooms A & B (Round Tables only):
Calculations below are based upon the fact that there needs to be a minimum of a 20" perimeter per round table for chairs and space for people to access chairs.
11 – 60" (5 foot) round tables with 8 guests/table = 88 guests
11 – 72" (6 foot) round tables with 10 guests/table -= 110 guests
12 – 60" (5 foot) round table with 9 guests/table = 108 guests
12 – 72" (6 foot) round tables with 10 guests/table = 120 guests
Rental Hours/Days:
7 days a week from 8:00 a.m. to 9:00 p.m.
Amenities:
a. Kitchenette pantry (2 microwaves/fridge/ice maker"
b. LCD projector (each conference room)
c. Screen (each conference room)
d. 2 podiums (1 per conference room) with computer access (all A/V includes in room rental)
PAYMENT:Security deposit (25% of total rental) and 50% of the rental fee is due when rental contract is signed. Payment in full must be made prior to the meeting. The security deposit is separate from the rental fee and cannot be applied towards the rental. Once paid, the security deposit is not refundable until three weeks after the event provided there are no charges assessed due to damage, loss, clean up or extension of contract time. Refunds issued by the main office in Riverdale are mailed directly to the contract holder or applied to credit cards used. Please call the business office for refund details.
Discounts: Non-profit groups are eligible for a 50% discount on meetings held Monday-Friday. A copy of 501(c) (3) form is required at the time of booking to apply the discount.
All cancellations must be in writing by the contract holder. If the contract holder cancels the event more than 60 days before event date, 50% of the rental fee will be forfeited. If the contract holder cancels the event less than 60 days before the event date, 100% of the rental fee will be forfeited.
Note: The contract holder is responsible for notifying the facility staff of any status change of name, address, or phone number. The refunds (if applicable) will be mailed to the address listed on the contract. Payments made by personal check will be made payable to the contract holder.
It is our mission to ensure an extraordinary rental experience. If prior to or during the rental any element of the event is found to compromise the venue, M-NCPPC or its staff reserves the right to cancel the event without reimbursement.
If the venue is unable to fulfill a contract due to causes beyond the control of the venue, any payments, except for services already rendered, will be refunded in full or payments received can be applied to a future re-booking.
Room-Set-up: Rentals include access to the room 30 minutes prior to the contracted time for setup of tables and chairs. There is no staff available to help with room set-up; therefore, please be prepared to move the tables and chairs into the arrangement that you wish for your meeting. If available, additional hours can be purchased with a written request at the time of booking the space.
Room Clean Up: Please leave the room as you found it upon arrival. Clean up all trash and food. You are allowed to remain in the room 30 minutes after your rental time to clean up trash and reset any furniture you have moved.
Food & Drink: There are no coffee/snack stations on the premises. You are responsible for providing your own refreshments and utensils, plates, cups, etc. for your meeting. (See attached information on Food and Catering Services.
M-NCPPC Policy on Alcohol:
· Alcoholic beverages must be served by a licensed bartender / caterer who must ensure all guests being served are twenty-one (21) years of age and over.
· The following are prohibited: BYOL (bring your own liquor), red wine, punch or cranberry juice or any red beverage (unless red wine waiver has been signed and submitted).
· The bar must close down one hour before the end of the contracted time (NO EXCEPTIONS).
· Cash Bars: Only non-profit organizations that have received approval to obtain and acquire a one-day liquor license can have a cash bar. All cash bar approval requests must be in writing and addressed to:
Director's Office
M-NCPPC
Prince George County
Department of Parks and Recreation
6600 Kenilworth Avenue
Riverdale, MD 20737
If approved, the director's office will address a letter of approval directly to Prince George's County Liquor Board for your convenience. The contract holder is responsible for purchasing the one-day liquor license from the Liquor Board. A one-day license is only granted to Non-Profit Organizations. A copy of the license must be submitted to the venue at least one week prior to the scheduled event and the original license must be displayed on the bar during the event.
Smoking: This is a smoke free facility. This includes electronic cigarettes and hookah/hookah bars.
Pets: College Park Airport Operations Building is a pet-free facility except for service animals.
Parking: All meeting participants and the public must park in the airport lot – adjacent to the Airport Operations building - and not in front of the main doors as those spaces are for museum visitors.
Multimedia Equipment: The Conference Rooms are equipped with multimedia podiums with projectors and screens. Use of them is included in the rental fees. Please notify us when booking the meeting if you need to use the equipment. Note: We do not have IT staff available to customize or trouble-shoot issues.
INDEMNIFICATION: Contract holders and guests are required to abide by all applicable Federal, State and/or County public laws and ordinances arising from use of venues.
The contract holder shall indemnify and hold harmless the M-NCPPC from and against all actions, liabilities, claims, suits, damages, costs, or expenses of any kind which may be brought or made against M- NCPPC of which M-NCPPC must pay and incur by reason of or in any manner resulting from the sponsor's negligent performance of or failure to perform any of his/her obligations under the terms of the reservation agreement.
M-NCPPC shall not be liable for loss or reimbursement due to cancellation or termination of a scheduled event due to force majeure, act of God or inclement weather.
DAMAGES: Renter agrees to assume full financial liability and responsibility for any and all damages to the Facility or its contents and collections during the scheduled event, or costs incurred by the Commission resulting from the renter, or renter's guests, invitees, organization, or agents, at the facility during their rental time frame.
Any damage to museum collections and/or aircraft will be covered by the renter – based upon an appraisal through a restoration or conservation company of the Museum's choosing.
The Commission reserves the right to deny the application, or revoke an approved application, where (1) an individual, group or organization has (i) provided false information on an application, (ii) failed to meet past obligations, or has an outstanding obligation with the Commission; or (2) there is insufficient staff to conduct the event.
This agreement is not transferable to another party, individual, group or entity.
The supervising employee or representative shall have the authority to regulate, at his or her sole discretion, activities during the event and will terminate the function if, after the first warning, the rules and regulations are not observed by the renter, or the renter's guest, invitees, organization, agents, caterers or contractors.
1909 Corporal Frank Scott Drive College Park, MD 20740
Ph: 301-864-5844